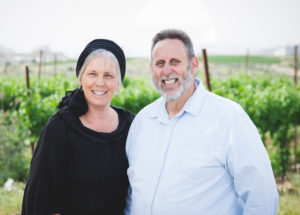 One of the great joys of my life together with Lynne has been raising and homeschooling our eight children, always striving to build our foundation on the Word of God. In 2008, however, our family's worldview was turned upside down when we traveled to Israel and saw incredible prophecies being fulfilled on the mountains of Israel for the first time in 2,000 years. 
Our hearts were forever changed as we witnessed with our own eyes the incredible work of Kingdom redemption that is in process in the land of Israel. We dug into the Scriptures and found one confirmation after another all throughout the Word.  We wholeheartedly joined forces with the Waller family in their kingdom-building work in the heartland and began making our way towards Zion's restoration! Now, twelve years later, we are privileged to live almost full time here in the heartland of Israel.
We know you love Israel and would like to stay more connected to the truth of the reality here in the land that God loves. We would be honored if you would join us on this journey and we will connect you personally to the work you are enabling by your financial support. You will have an impact here in the heartland, where we are passionate and zealous to see the land of Israel restored. When you join our monthly support team, you also become part of our prayer team!
Life is never dull here on Har Bracha, and we will keep you connected and updated by sending heartfelt, exciting, and fun photos and videos along the way. We would love to have you on our team! Please feel free to email or call us if you have any questions, or would just like to chat!
Joining our team is simple:
Click the green button on the right side (or bottom) of this page
Select the amount you would like to give monthly, or just give a one-time donation
You will be added to our update list, where we will send out prayer requests and live on-the-ground videos from Israel

What do We Do Here in Israel?
Randy's first priority within Hayovel is overseeing the volunteer enrollment program. This entails interviewing the hundreds of applicants that apply for our programs each year, processing their applications from start to finish, and working closely with our liaison to the Ministry of Interior to obtain the special visas we need for staff as well as all the volunteers.
Lynne works with Randy, interviewing the single women and some of the families, and together they answer the variety of questions that are asked before volunteers arrive. They are privileged to help bring volunteers from all over the world (over 30 countries to date!) and help make the process smooth and full of excitement as they prepare to come to the Land. What a delight when they finally arrive and they get to meet in person!
Lynne and Randy are also elders within Hayovel. Always praying for wisdom regarding the myriad of challenges along the way, they make themselves available to help with whatever might be needed on a daily basis within the camp. Lynne and Randy speak out against replacement theology/anti-semitism and "fake news" which seems to make Israel a prime target, and have become advocates for training other advocates.They believe that the Temple Mount should be a "house of prayer for all nations," and feel privileged beyond measure to stand shoulder to shoulder with the Jewish people. Among our greatest heroes are the courageous pioneers in Judea and Samaria, that the world calls "settlers."
We are blessed beyond measure to have our "boots on the ground", working alongside six of our children, three of which are still at home, with many of our grandchildren nearby.   
Josiah, our oldest at home, works full time in HaYovel's marketing department with email marketing and advertisement. Along with being involved on the operations crew when there is a construction project or volunteer event going on. He has also traveled the southern United States and West Coast, speaking to churches and individuals about the miraculous restoration of the land of Israel. 
Caroline is getting married this coming summer and shortly thereafter she will begin managing the hospitality department for volunteers and tour groups. She has put in eight harvests working in the commercial kitchen, helped out with our Daughters of Zion program, and countless other projects over the years.
Justin is currently finishing high school but is also one of our chief photographers. Many of the beautiful photos you see on the HaYovel blog are a result of Justin's eye for beauty and excellence. He leads volunteers in the field, and puts in many hours around the property here as well; working on the construction team, tackling landscaping needs, and setting up for hospitality and special events.
We are grateful beyond words that our children have the same vision we do, and give whole-heartedly to this work for countless hours each week, carrying large workloads. Our family has truly put our hands to the plow and not looked back, and we are humbled by God's grace and strength to be a part of this world-changing work. The entire earth has its eyes on Israel!
Will you join our monthly support team?
Contact Info:
Randy:  randy@hayovel.com, phone 312-340-0967 (rings to Israel)  
Lynne:  lynne@hayovel.com, phone 469-242-3566 (rings to Israel)
"Many nations shall come and say, "Come, and let us go up to the mountain of the LORD, To the house of the God of Jacob; He will teach us His ways, And we shall walk in His paths." For out of Zion the law shall go forth, And the word of the LORD from Jerusalem."  -Micah 4:2