Hi there! Andrew and Caroline here.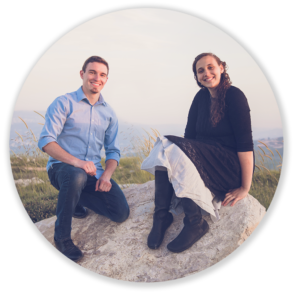 If you're like us, you love Israel
. And not only do you want to live out your faith and make a difference for God's Kingdom in your family, workplace and community, but you want to stay connected to Israel and make a difference there too.
But in our well-connected world, have you noticed how difficult it can be to stay connected to Israel in a positive way? There's a lot of crazy headlines and articles that come out about what happens in the Middle East. Some we know are true. Some we know are false. But what about all those other news reports that seem so negative and leave you feeling disconnected and unsure of what is actually going on in Israel?
There are amazing miracles happening in Israel right now, and we are the very first generation to be witnessing many of them! Everyone who loves God and believes in the Bible should be able to make a difference and be closely connected to this special place our King has chosen.
We've been working here on the mountains of Israel for many years now and we want to share our experience and partner together with you in bringing restoration to Israel. Caroline has been working here with her family since 2010. Andrew first came to Israel in 2014 and has been on staff with HaYovel for the last five years.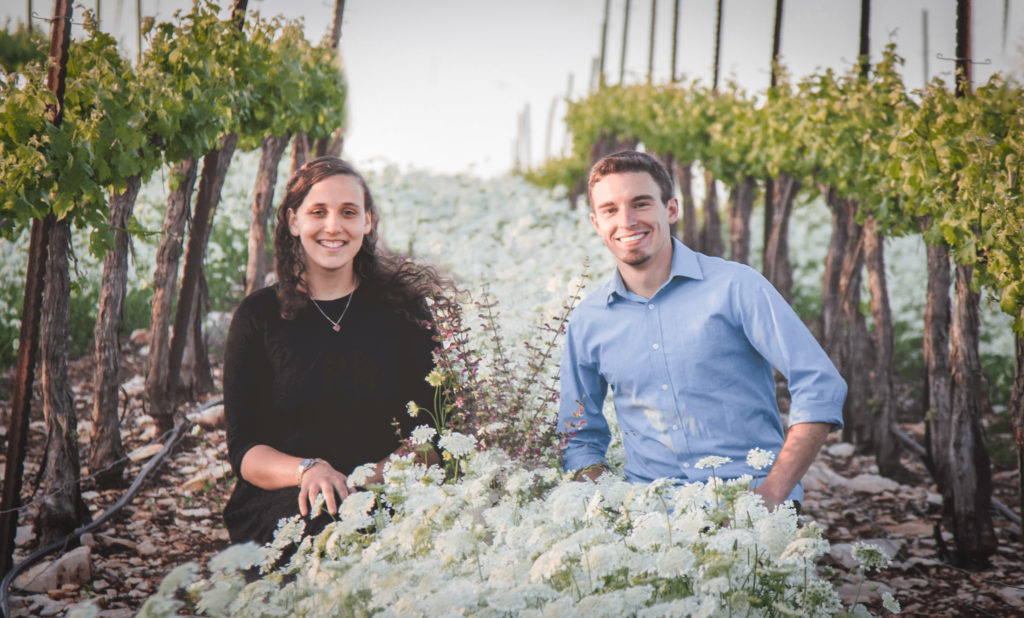 We served as single staff members for many years, but as of August 2020, we are now married! We look forward to continuing to serve together here in Israel side-by-side as husband and wife in pursuit of Israel's restoration and a vision we are both very passionate about.
Will you join our monthly support team?
Set up your monthly gift by check or card. Or select a single contribution if you'd like to give less often, such as an annual gift.
We'll be in touch to let you know the impact you are making!
As you consider where to invest the money that you tithe to support ministries around the world, we know that you care very deeply about where your gift goes. You want it to make a big impact and not be just a drop in a bucket somewhere and never know for sure what it goes to or how much it accomplishes.

One of the things we like to let people know is that their gift is literally putting "boots on the ground". You can make an impact for God's Kingdom wherever you are at in the world, and also in Israel by having us as your hands and feet volunteering full-time, bringing greenery and life back to the mountains, and serving the Jewish people with hearts of love.
And the next time you see a news headline telling about what's happening in Israel, you won't be left wishing you could have a more personal, boots-on-the-ground update of what's going on. You'll know all about the prophecies that are coming to pass in Israel. You'll have photos of the beautiful vibrancy that is returning to what once was barren and desolate desert. And you'll know about the amazing reality of Jews and Christians standing with the promises of God and working together side-by-side.
Are you ready? We need you on the team!
We'd love to hear from you! Send us an email to drew+caroline@hayovel.com or give us a call at 970-444-2219
---
What Exactly Do We Do?

Andrew works as Digital Marketing Engineer for HaYovel, (otherwise known as "the tech guy" 🙂) He is passionate about sharing the good news of Israel's restoration with the world through filming videos, capturing photos, writing emails and social media posts, and handling the "behind-the-scenes" for our Israel-inspired livestreams, podcasts and TV shows. He serves on the ground full-time in Israel and, when he's not in the office sharing the story of Israel's restoration, he is helping with the details and logistics necessary for hosting HaYovel's amazing volunteers that come every year from countries around the world.
---

Caroline has worked on HaYovel's kitchen team for the past seven years, cooking and serving three meals a day for our volunteers and staff members. This year she has joined the marketing department alongside Andrew. She enjoys writing and creating content in order to effectively broadcast the good news from the Land of Israel. She partners with Andrew to manage the social media, helping to connect people from around the world to what God is doing today to bring His Kingdom to earth. She lives in Israel full time, always excited to host volunteers and make their experience in the Land the best it can be. She also serves as our camp nurse, responsible for taking care of anyone who may fall ill during their stay with HaYovel in Israel.