Invest in the Hiltons in the Land of Israel
We know that you are a strong Christian who loves God, the bible and the land of Israel. Many of you have probably been to Israel before, made a difference for God's Kingdom, and would like to go back again. However, life happens, families grow, children and work comes along, and going to Israel seems like a distant reality. Israel may still be tugging at your heart, but you don't see any way to stay connected.
As a strong believer, we feel that you should have a personal connection to the land of Israel, even if you can't go yourself.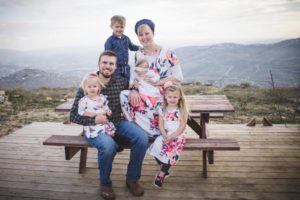 We understand that not everyone can go to Israel every year, and that is why we would like to be your special envoy in the land.
As a family, we have:
been working in Israel for over 10 years
hosted thousands of believers in Israel and watched their lives become changed
traveled around the world speaking about Israel
been a voice for Israel through media and in person advocacy, reaching hundreds of thousands
We would like to be your hands and feet in Israel. We'd like to be the two good spies who brought back the report that "this land is an exceedingly good land". We are operating in Israel full time to facilitate God's Word being fulfilled, but we cannot do it alone. We need your support.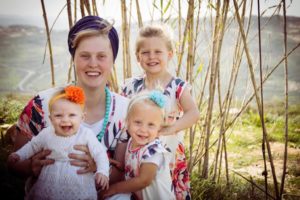 Joining our family's monthly support team is simple:
sign up right here on this page for any amount (click the green button on the right)
we'll add you to our monthly newsletter list
if you use WhatsApp, we'll add you to our "Life w/Luke&Liv" group so that you can receive live photos and videos from the Holy Land.
Will you support our family with $100, $50 or even $10 per month? Every gift, no matter how small or large is vital to the work that we are doing here. You can click on the green button above to sign up today.
We are a family of 6 (and growing!). We are actively working towards the restoration of God's Kingdom in Israel. If you join our support team however, we will be even stronger! Instead of just 6 people working in the Israel, we'll be 10, 15, or even 25 working as a team towards the vision of redemption in Jerusalem (Luke 2:38).
We are 100% working towards the restoration of God's Kingdom, and we want you to be a part of it. We want to be your hands, feet, eyes, and ears in the Holy Land.
Will you experience Israel through our family?
If you have any questions, we would love to hear from you. You can reach us at: Luke@HaYovel.com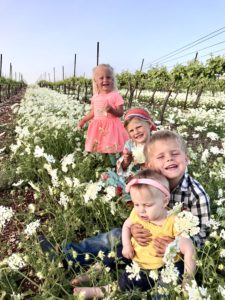 The children in the vineyard during springtime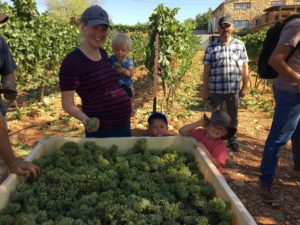 Our family picking grapes (and eating them)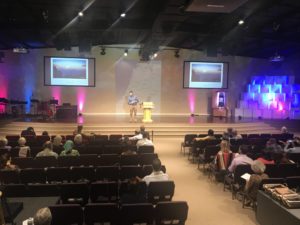 Luke speaking to a congregation in Florida about HaYovel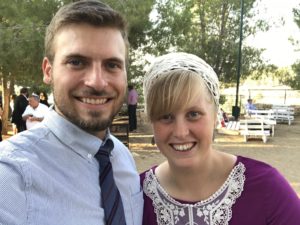 Luke & Liv at a wedding in Israel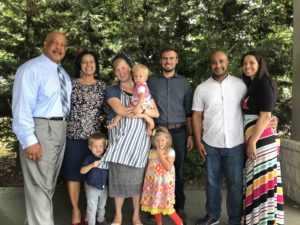 Speaking to a church in Virginia Beach, VA about HaYovel

The Joshua and Caleb Report Podcast Logo
What do I (Luke) do in HaYovel? 
I first came to Israel in 2008, and have been coming back every year since. Back then, HaYovel was a small, family ministry. I grew up with the organization, and eventually married Olivia, who is the second-born girl in the Waller family. I've done almost every job in HaYovel, but after we got married in 2015, I took on the position of Marketing Director. I have 3 full time people working on my team, and about 3 part time people underneath my management. Together with my team, I am responsible for all of HaYovel's marketing, including websites, email campaigns, social media, advertising, print work, photos, videos, and much more.
I co-host the Joshua and Caleb Report podcast each week, a show dedicated to broadcasting bold truth from Israel's front lines to the world. I'm also the main writer for the Heartland Report, a weekly article that is published to 20,000+ people every Friday.
I love what I do, and learn more about telling the story of the restoration of God's Kingdom back to Israel every day. I'm currently in the process of redoing a lot of our marketing, as well as much of our messaging in HaYovel to be clearer and more effectively tell our story. I'm looking forward to reaching tens of thousands of Christians with our message in the near future.