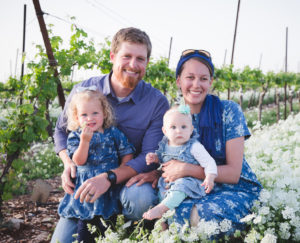 Hello! We are the Joshua & Katelyn Waller family. We are passionate about the redemption of Israel and are involved heart, soul, and foot in the work of greening Israel's heartland.
Joshua works as the Director of Operations for HaYovel overseeing the broad picture of our on the ground operations: Harvest, Pruning, 1 to 4 day volunteer days and tree planting initiative. What most excites Joshua though, is sharing the good report of the Land with Christians from around the world. You can often see Joshua touring a family or group around the vineyards on the Mt of Blessing, speaking to a volunteer group while planting trees, or working alongside pruners and harvesters, encouraging them with the reality of the restoration of Israel. Joshua also passionately shares a good report from Israel each week on the Joshua and Caleb Report Podcast.
Katelyn is a joyful mother found in the heart of her home. She is busily engaged in raising their two treasures, Anavah and Elana. When she has time, she edits written material HaYovel produces. Most of all, she enthusiastically supports Joshua in the work the Father has called them to do in Israel.
If you would like to join our prayer and monthly financial support team, we would be most grateful! We highly value each of our supporters and feel it is our duty to keep you informed on a personal level as to what is going on in Israel and how your gift each month enables us to operate! So, please pray about joining our team and come along for the ride!
Much love and thanks,
Joshua, Katelyn, Anavah & Elana
Joining our monthly team is easy!
On the right side of this page, choose the amount you would like to give.
Click the green button and. . . You're on our team!
You will begin receiving live updates from us on what is happening in Israel.