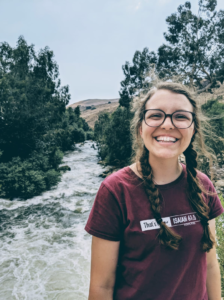 Shalom friends!
God has chosen Jerusalem, and He is not done with her yet. Therefore, I have decided to align myself with God's choosing and serve the people and the land of Israel full-time. There is a lot of work to be done, and I am excited about you joining me in advancing the Kingdom of God! Our Father is causing His will to be done on Earth as it is in Heaven.
Will you join me in the mission of blessing the people of Israel by allowing me to be your hands and feet?
My life has truly been a journey of God, purifying my heart and opening my eyes to see what His will is. I've learned that some of the biggest miracles taking place today are as simple as the nations picking grapes, the Jewish people returning home, old men and women walking with their staffs in Jerusalem, and sweet little children playing in the streets. The Word of God is undoubtedly alive and active.
"Strangers will stand and pasture your flocks, and foreigners will be your farmers and your vinedressers." Isaiah 61:5

"'Also I will restore the captivity of My people Israel, and they will rebuild the ruined cities and live in them; they will also plant vineyards and drink their wine, and make gardens and eat their fruit. I will also plant them on their land, and they will not again be rooted out from their land which I have given them,'
Says the LORD your God." Amos 9:14-15

"Thus says the LORD of hosts, 'Old men and old women will again sit in the streets of Jerusalem, each man with his staff in his hand because of age.

And the streets of the city will be filled with boys and girls playing in its streets.'" Zechariah 8:4-5
I am very excited about this new journey God has me on. My desire is that with your help, I will be able to join myself with what God is doing in His Land by leaving everything behind and blessing His people.
Thank you so much for your sacrificial love and giving towards this mission of ushering in our Messiah. May God bless you and keep you.
Cassie Bartell
My email: cassiebartell@hayovel.com
My phone: 580.860.4683
I look forward to hearing from you!