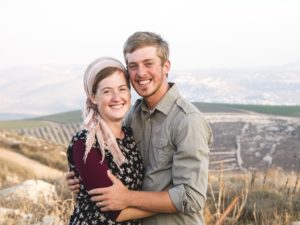 Hey!
We're Britt and Taryn Waller and it is our passion to help people connect to God's heart and to the physical reality of what He is doing in the Biblical heartland of Israel. The kingdom of God is not only a futuristic dream but a tangible reality in our times and we feel so honored to be born into a generation that is able to participate in it!
I (Britt) enjoy sharing this reality with others through:
Serving as HaYovel's Logistics Coordinator for events and programs in Israel and the US

Managing HaYovel's Sons of Zion discipleship program
Leading volunteer groups

Speaking to churches and congregations around the world

Leading worship for Hayovel events and trips
Will you join us?
By joining our team of monthly supporters, you will enable us to be your personal connection here in the land of Israel to the work God is doing through HaYovel. Let us be your hands and feet on the mountains of Israel! We would love to have you on our team!
Joining our family's monthly support team is simple:
Sign up right here on this page for any amount (click the green button on the right)

We'll add you to our monthly newsletter list

If you use WhatsApp, we'll add you to our broadcast list so that you can receive live photos and video updates from the front lines
Britt's story:
I grew up as the ninth born child in the Waller family so I basically grew up coming to Israel. My first trip to the Land was in 2005 at 6 years old, thinking that Israel would be like a storybook with people dressed in biblical attire riding donkeys.
 Over the years I have realized that just as Israel is a real place of the present, the Bible and our faith is also more than a story of the past, it is a reality of the present and the future!
Logistics can be fun sometimes especially when you have 100 people that are all looking at you and you have to make it work, in Hebrew! Thankfully we've come a long way since the early days and things go like clockwork thanks to an amazing staff and leadership team!
I also have a strong passion to see young men walking in the power of their God given calling. Coming to the Land and watching the Bible come to life is one of the most grounding things a young guy can do. That's why I enjoy managing the Sons of Zion program and seeing the transformation that takes place.
I married my beloved wife Taryn in 2019, and we love working together toward seeing Israel's full redemption and God's presence restored in Zion!
Taryn's story:
My lifelong dream of visiting Israel came true in 2018 when I attended Hayovel's Daughters of Zion program. It was on that trip that God really grabbed a hold of my heart and gave me a vision to serve the Jewish people and be a part of the miraculous restoration I saw taking place, and a passion to share what God is doing with others! I am excited to be doing this work alongside Britt and our first little one arriving this July!
Britt@HaYovel.com
Let's stay in touch!